Burrowing Owl Adaptive Management Plans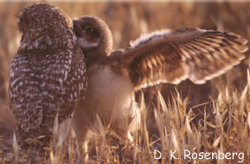 The western burrowing owl (Athene cunicularia hypugaea) is listed by the U.S. Fish and Wildlife Service as a Species of Management Concern.  The species is also listed as Endangered in Canada.   Management and research efforts are trying to prevent further declines, and avoid the need to list the species under the U.S.  Endangered Species Act.  Conservation plans that integrate our best understanding of the ecology of a species with the management context of a particular area will be a vital part of these efforts.  OWI believes that conservation plans are best developed as adaptive management plans that promote "learning by doing" – management with follow-up monitoring or research to help determine what strategies were successful.  Oregon Wildlife Institute has created adaptive management plans for several California populations of burrowing owls.  These plans used information gained from OWI staff research at these sites.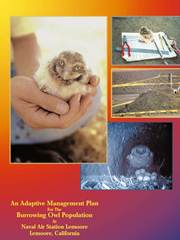 Naval Air Station Lemoore
A relatively large population of burrowing owls occurs at Naval Air Station Lemoore, located in the San Joaquin Valley of California.  Here, burrowing owls nest in runway buffer strips, and even adjacent to runways. They also occasionally nest in areas that may be scheduled for construction activities. Owl conservation activities at NAS Lemoore have included an intensive demographic and space use research program.  Mowing operations, prescribed burning, and the avoidance of discing grasslands has contributed to the large nesting population of burrowing owls.  To continue land management activities that are conducive to the protection of the burrowing owl at NAS Lemoore, we developed an adaptive management plan in collaboration with The Institute for Bird Populations.  Ten years later (2009), OWI updated the plan based on further research and monitoring, consistent with our goal of adaptive management—learning by doing.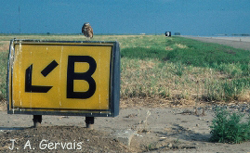 Naval Air Facilities El Centro
Burrowing owls can demonstrate remarkable tolerance to human activity; this is likely the major reason for their success in the agricultural landscape of the Imperial Valley, California home to Naval Air Facility El Centro.   Burrowing owls have long been noted for their propensity to live in or around active airfields. This presents a special challenge to management in a situation such as NAF El Centro, which is surrounded by high densities of burrowing owls.  Read more about the Naval Air Facilities El Centro Burrrowing Owl Management Plan.