Conservation Detector Dogs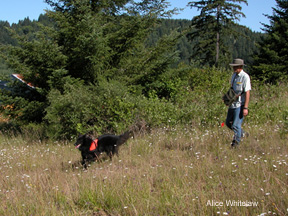 For more than a decade, biologists have utilized the olfactory capabilities of trained detector dogs to perform a number of research and conservation tasks. Detector dogs have been used to locate desert tortoises, identify scats from different species, conduct searches for invasive weeds, and perform a number of other research services.
In 2007, OWI began a collaboration with the Working Dogs for Conservation Foundation to study the capabilities of conservation detection dogs for surveys of Kincaid's lupine, a rare prairie wildflower of Oregon's Willamette Valley. Since then we have trained dogs to assist in searches for Swainson's thrush nests and western pond turtles.  Results of our tests indicate that detection dogs can indeed offer valuable assistance to conservationists.  Our work has been featured by The Nature Conservancy, the Oregonian,  and OPB's Oregon Field Guide.
Sponsors:  U.S. Fish and Wildlife Service, Oregon State University research grant