Red Tree Vole Conservation and Strategic Surveys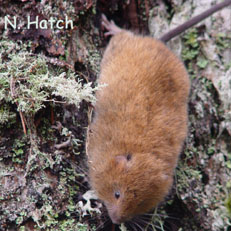 The red tree vole (Aborimus longicaudus) lives nearly its entire life in the branches of conifer trees.   It only occurs west of the Cascade Mountain crest in Oregon and northern California.  This small rodent builds nests of small twigs and needles in the branches of its nest tree, and eats the tree's needles by first stripping the resin ducts. It is one of the few animals that can live entirely on a diet of conifer needles.  Relatively little is known about red tree voles, but  populations have declined with changing forest landscapes.  The North Oregon Coast population is a Candidate for listing under the Endangered Species Act, and the State of Oregon lists red tree voles as a sensitive-vulnerable species.  The Oregon Wildlife Institute has begun several projects to help conservation and management efforts.
Strategic Surveys and Conservation Assessments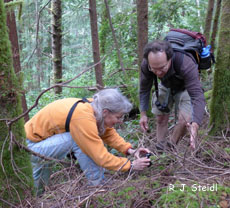 Land managers need to know when additional information is needed to meet the Northwest Forest Plan guidelines on red tree vole management and conservation.  Nests can be very difficult to see from the ground, and climbing trees is risky and very expensive.  The Oregon Wildlife Institute will design an  approach to more efficiently and effectively evaluate the status of red tree voles in management areas, using both existing data and additional strategic surveys when needed.   This work is expected to contribute to better balancing the needs for timber harvest, forest restoration, and conservation of red tree voles.  The Oregon Wildlife Institute is collaborating with staff from the PNW Lab of the U.S. Forest Service, the Interagency Special Status Sensitive Species Program, and the monitoring program of the Northwest Forest Plan.
Habitat Mapping with Lidar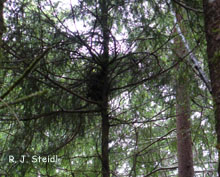 We still have much to learn when it comes to identifying what constitutes the best red tree vole habitat.  Using airborne Lidar and remote imaging, the Oregon Wildlife Institute will explore what fine-scale habitat elements are selected by red tree voles.  Lidar can be used to measure the structure of forest canopy with a precision never before possible.  We can use this information to increase our understanding of habitat selection by arboreal wildlife.  This project will contribute to developing forest management practices that improve wildlife conservation.   It is a collaborative effort among Bureau of Land Management, USGS FRESC, Oregon State University, and Oregon Wildlife Institute staff.
Sponsors: Interagency Special Status/Sensitive Species Program (US Forest Service and Bureau of Land Management) and BLM, Oregon State Office