Kit Fox (Vulpes macrotis)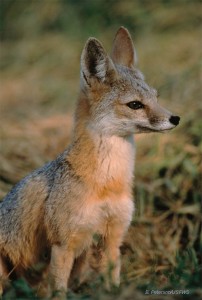 The geographic range of the kit fox (Vulpes macrotis) reaches its northernmost extent in the Great Basin provinces of Oregon and southern Idaho.  Surveys conducted in Malheur and Harney Counties during the early 1990's detected kit foxes at multiple sites in an area lying between Steens Mountain and the Trout Creek Mountains. Earlier museum specimens and observations have also been recorded from Deschutes and Klamath Counties.  A trail camera reconnaissance survey in Malheur Co. during July 2012 revealed the first conclusive evidence in more than 20 years that kit foxes still occur in southeast Oregon.
The kit fox is associated with shrub-steppe communities throughout its geographic range.  Habitat conditions in the northern Great Basin have been impacted by past grazing practices, land cover conversion, altered fire regimes, expansion of western juniper woodlands, and invasions of noxious weeds.  Knowledge about how the kit fox population in Oregon is responding to these changes is almost non-existent. Predation by coyotes and traffic-related mortality are also reported to be limiting kit fox populations. Two emerging issues, climate change and energy developments (wind and geothermal) may have important effects on Great Basin wildlife, but almost nothing is known about their specific ecological impacts in the region.
Kit foxes were detected at 9 of the 17 cameras placed in our Malheur Co. study area during Fall 2013.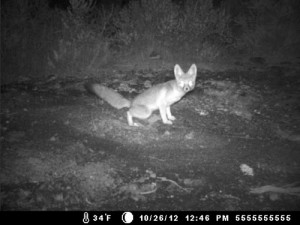 Since 2012, OWI has been collaborating on a program of kit fox research with Dr. Tim Hiller of the Wildlife Ecology Institute and Oregon Department of Fish and Wildlife.  Our work has included a kit fox conservation assessment, den site and population monitoring, climate change impact paper, and an ongoing resource selection project.
Sponsored by the Bureau of Land Management, Oregon Office, the Oregon Wildlife Heritage Foundation, and the Charlotte Martin Foundation.  Essential software for our analyses has been granted to OWI by ESRI and the Friends of SAS JMP Program.