OWI believes that education is central to effective conservation.  One component of our Education & Outreach program is developing educational videos and distributing them to educators and natural resource outreach specialists.  OWI staff co-produce the videos in partnership with Peregrine Productions, who shares our goals of providing high-quality videos at little to no cost to educators.  OWI staff have produced two videos, each with two programs exploring natural history and conservation issues.   Copies are still available for purchase for a nominal charge.
Hidden in Plain View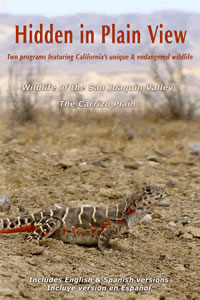 Wildlife of the San Joaquin Valley of California
Explore the unique wildlife under threat from rapid development and examine the controversies and challenges managers and researchers face in protecting the endangered species of the San Joaquin Valley. Co-produced by Vince Franke and Dan Rosenberg.  (26 minutes)
The Carrizo Plain, California
This award winning 12-minute program takes you on a journey in the amazing Carrizo Plain National Monument to visit little-known species such as giant kangaroo rats that drum in the night, fairy shrimp that survive without water and owls that nest underground. Co-produced by Vince Franke and Dan Rosenberg.  (12 minutes)
 View short videos of San Joaquin wildlife
Burrowing Owls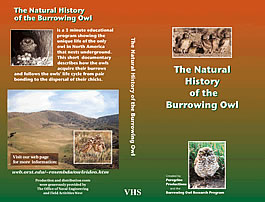 The Natural History of the Burrowing Owl
A 3 minute video on the biology of burrowing owls, intended for use at vistor centers and similar educational facilities. This short documentary describes how owls acquire their burrows and follows the owl's life cycle from pair bonding to the dispersal of their chicks. Available only on DVD, accompanied by Going Underground.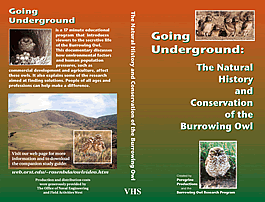 Going Underground: The Natural History and Conservation of Burrowing Owls
A 17 minute film on the biology and conservation issues of Burrowing Owls, with an emphasis on conservation issues in California. Intended for ages 12 – adult. This film introduces viewers to the secretive life of the Burrowing Owl. This documentary discusses how environmental factors and human population pressures, such as commercial development and agriculture, affect these owls. It also explains some of the research aimed at finding solutions. Available on both DVD and VHS formats.  DVD includes both Burrowing Owl videos.