Native Turtle Conservation and Management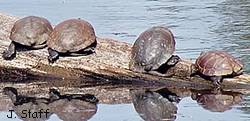 Oregon is home to two native turtles, the western pond turtle and the western painted turtle.  Habitat loss, increased predation pressure resulting from habitat fragmentation, and introduced species may all play a role in population declines of Oregon's native turtles.

OWI has been at the forefront of many projects to learn more about native turtles and their management, create conservation plans, and participate in outreach activities to encourage conservation of  native turtles.  View our Reports and Publications to learn about what we have been doing to help protect native turtles.
Current and Recent Projects

Thornton Lake (Linn County) Conservation Plan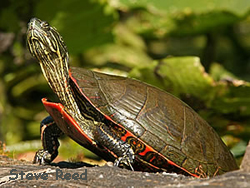 The City of Albany recently purchased what is now the Thornton Lake Natural Area, a unique site that harbors both western pond and western painted turtles.  OWI's work at Thornton Lake will help guide conservation planning for native turtles.
Sponsors:  City of Albany, Oregon Watershed Enhancement Board 
Western Pond Turtle Hatchlings
We examined movements of hatchling pond turtles once they emerged from their nests.  This study revealed that young turtles may remain in the vicinity of their natal nests for several months after they emerge.
View our report and publication for more on how we conducted this study and what we learned.
Sponsors: US Fish and Wildlife Service, US Forest Service, National Fish and Wildlife Foundation, & Oregon Wildlife Heritage Foundation
Native Turtle Conservation Plan, Portland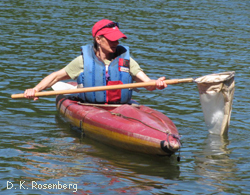 To guide management of native turtles in Portland, Oregon, we developed the Conservation Plan for Native Turtles in the Columbia Slough Watershed .  We highlighted five Turtle Conservation Areas and several priority projects as first steps towards long-term conservation of these remarkable reptiles.  Visit Conservation Planning for more details.
Sponsors: Oregon Zoo, Oregon Wildlife Heritage Foundation, City of Portland, Metro, Port of Portland, Oregon Department of Fish and Wildlife.
Conservation Assessments for Western Painted and Western Pond Turtles in Oregon
The Conservation Assessments for western pond turtles and the Conservation Assessment for western painted turtles synthesizes and critique previous research, monitoring, and management efforts relevant to conservation of the native turtles in Oregon.  The assessments provide biologists engaged in research and/or management a concise understanding of the state of the knowledge on the ecology and management of these two species.
Sponsors: Interagency Special Status Sensitive Species Program (USFS&BLM), US Fish and Wildlife Service, Oregon Department of Fish and Wildlife, City of Portland, & Metro.